Normani Delivers An Epic Choreo, Stunning Vocals To 'Motivation' Performance At The 2019 MTV VMAs.
by
TodayNewsReview
(
m
):
6:55am on August 27
Normani, the former Fifth Harmony member's live rendition of her fast-rising hit "Motivation" was one of the 2019 MTV VMAs night's highlights -- a well-rehearsed, hard-hitting performance that left no one wondering about Normani's A-game.
After an introduction from Lenny Kravitz and a similarly strong performance from H.E.R., Normani and her dance crew sprang into action. Lowered from above into a pastel-painted basketball court, Normani's team busted out twerks, cartwheels, and no shortage of swagger to bring "Motivation" to life.
When it was all over, Normani took a few extra well-deserved seconds to catch her breath and gaze out into the Prudential Center crowd, taking it all in.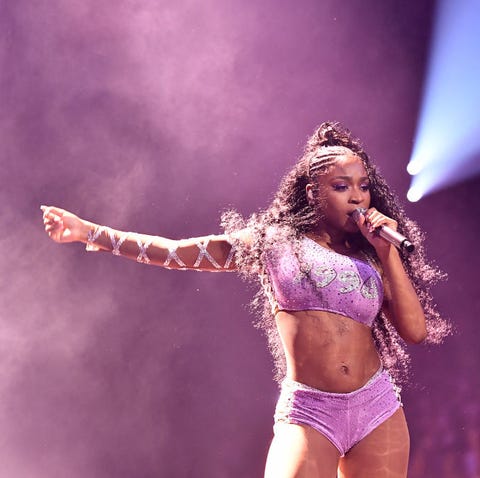 The VMAs Moon Person is seen during the 2019 MTV VMAs press junket at Prudential Center on Aug. 22, 2019 in Newark, N.J.
After achieving a pair of top-10 singles on the Hot 100 alongside Sam Smith ("Dancing With a Stranger&quot
and Khalid ("Love Lies&quot
, "Motivation" is Normani's first hit in the spotlight by herself. It sits at No. 33 on the Hot 100 tally dated Aug. 31.
Source:
www.billboard.com/articles/news/awards/8528413/normani-2019-mtv-vmas-performance-motivation-video?utm_medium=social&utm_source=twitter&utm_source=t.co&utm_medium=referral
(Go Up)
Viewing this topic:
1 guest viewing this topic
TodayNewsReview is owned and managed by Jeremiah O. A.(TodayNewsReview) (Read TNR Rules) - Advertise With Us
- Copyright © 2020. All rights reserved.
Disclaimer: Every TodayNewsReview member is solely responsible for anything that he/she posts or uploads on .
For enquiries & feedbacks send email to: contact@todaynewsreview.com