Best-Known Theoretical Physicist Professor Stephen Hawking Dies At 76.
by
TodayNewsReview
(
m
):
10:49am on March 14
Famous theoretical physicist Professor Stephen Hawking has died at age 76. According to the University of Cambridge spokesman, Hawking died peacefully at his home in Cambridge, England.
Hawking was widely regarded as one of the world's most brilliant minds, he was known throughout the world for his contributions to science, his books, his television appearances, his lectures and through biographical films. He leaves three children and three grandchildren.
Professor Hawking broke new ground on the basic laws which govern the universe, including the revelation that black holes have a temperature and produce radiation, now known as Hawking radiation. At the same time, he also sought to explain many of these complex scientific ideas to a wider audience through popular books, most notably his bestseller A Brief History of Time.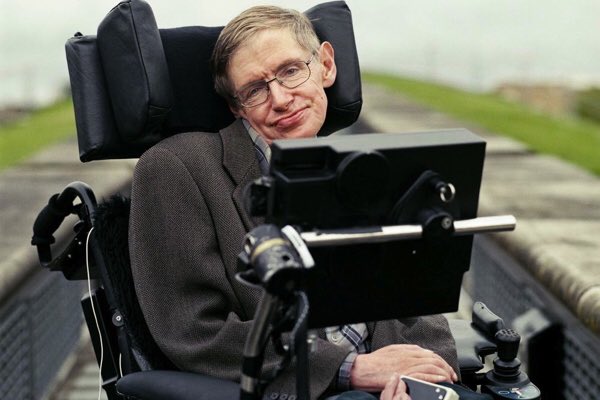 He achieved all this despite his body being attacked by amyotrophic lateral sclerosis, or ALS, when Hawking was 21 while a student, and eventually led to him being confined to a wheelchair and to communicating via his instantly recognisable computerised voice. He stunned doctors by living with the normally fatal illness for more than 50 years. A severe attack of pneumonia in 1985 left him breathing through a tube, forcing him to communicate through an electronic voice synthesizer that gave him his distinctive robotic monotone. His determination in battling with his condition made him a champion for those with a disability around the world.
Hawking married Jane Wilde in 1965 and they had three children, Robert, Lucy and Timothy.
Jane cared for Hawking for 20 years, until a grant from the United States paid for the 24-hour care he required.
He was inducted into the Royal Society in 1974 and received the Albert Einstein Award in 1978. In 1989, Queen Elizabeth II made him a Companion of Honor, one of the highest distinctions she can bestow.
(Go Up)
Viewing this topic:
1 guest viewing this topic
TodayNewsReview is owned and managed by Jeremiah O. A.(TodayNewsReview) (Read TNR Rules) - Advertise With Us
- Copyright © 2020. All rights reserved.
Disclaimer: Every TodayNewsReview member is solely responsible for anything that he/she posts or uploads on .
For enquiries & feedbacks send email to: contact@todaynewsreview.com