At Least 8 Dead, Dozens Injured After Truck Runs Down Multiple Pedestrians In New York City - ABC News.
by
TodayNewsReview
(
m
):
12:38am on November 1
In what New York City Mayor Bill de Blasio called a "cowardly act of terror," a man driving a rental truck struck and killed eight people on a jogging and bike path Tuesday afternoon. The sprawling crime scene runs about 10 blocks along the West Side Highway, a few blocks away from One World Trade Center.
Witness Andrew Howell said he was walking along the bike path when he saw a truck plow into two cyclists riding about 20 feet in front of him; he said the impact sent one of the victims straight up into the air, and the man was motionless when he landed back on the ground. The driver then continued at a high speed before crashing, Howell said.
A uniformed police officer was credited with stopping the carnage.
A suspect is in custody and was identified as 29-year-old Sayfullo Saipov of Tampa, Florida, multiple law enforcement officials told ABC News.
The suspect is reported to have screamed "Allahu Akbar" after the crash, and that is a key reason authorities are looking at terrorism as a possible motive, sources said.
New York Gov. Andrew Cuomo said there was no evidence of a wider, ongoing threat but he said more police would be monitoring the streets on Halloween night. The city's annual Halloween parade in the West Village, which is near the crime scene, will still take place tonight, officials said.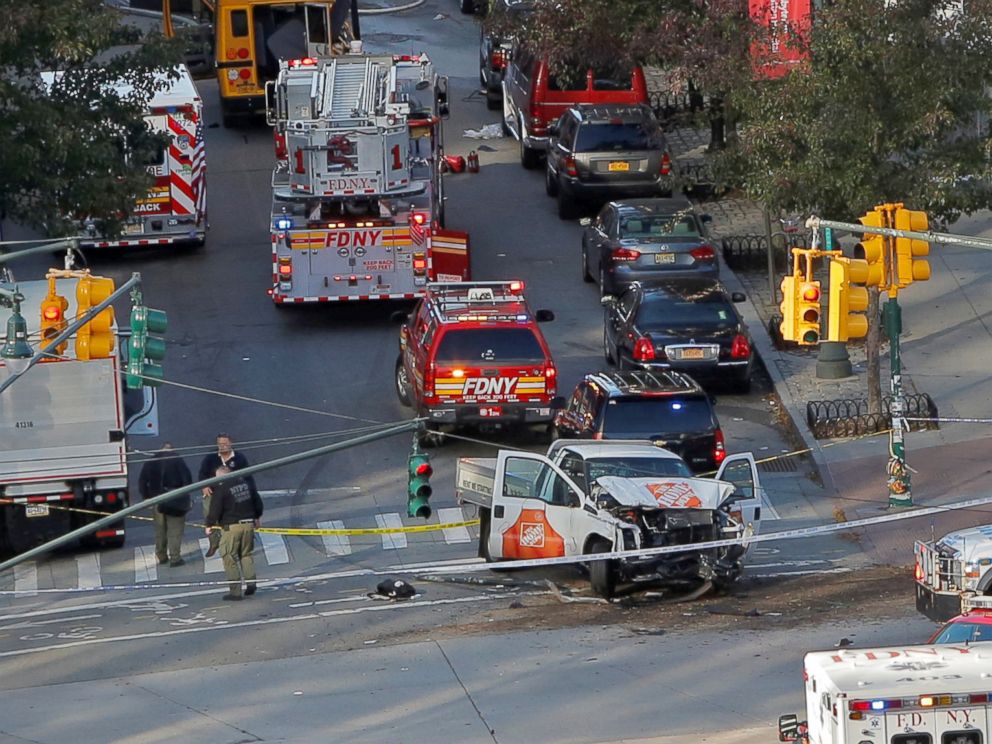 The deadly incident began at about 3:05 p.m., when the vehicle -- a Home Depot rental truck, according to the company -- entered the West Street pedestrian and bike path north of Chambers Street, hitting multiple people on the path, leaving some dead and numerous people injured, New York City police said.
At Chambers Street, the truck collided with a school bus, injuring two adults and two children, police said.
After the collision, the truck driver exited the vehicle brandishing what appeared to be two handguns, police said. A uniformed police officer confronted the suspect and shot him in the abdomen, police said.
The suspect was wounded and transported to a hospital, police said. A paintball gun and a pellet gun were recovered at the scene, police said.
Six of the deceased victims were pronounced dead at the scene; two more died at a nearby hospital. Police said 11 were wounded with serious but non-life-threatening injuries.
A witness told ABC's New York station WABC that after the truck hit multiple people on the bike path, it crashed into a school bus at Chambers and West streets, near Stuyvesant High School.
President Donald Trump has been briefed, according to a White House spokesperson. Attorney General Jeff Sessions and FBI Director Christopher Wray have also been briefed.
abcnews.go.com/US/dead-truck-plows-people-york-city-cowardly-act/story?id=50842052
(Go Up)
Viewing this topic:
1 guest viewing this topic
TodayNewsReview is owned and managed by Jeremiah O. A.(TodayNewsReview) (Read TNR Rules) - Advertise With Us
- Copyright © 2020. All rights reserved.
Disclaimer: Every TodayNewsReview member is solely responsible for anything that he/she posts or uploads on .
For enquiries & feedbacks send email to: contact@todaynewsreview.com