President Trump Fires FBI Director James Comey Over Email Investigation.
by
TodayNewsReview
(
m
):
4:47am on May 10
President Donald Trump on Tuesday fired FBI Director James Comey after senior Justice Department officials concluded that he'd mishandled the investigation of Hillary Clinton's use of a private email server while she was secretary of state.
"You are hereby terminated and removed from office, effective immediately," Trump told Comey in a personally signed letter obtained by NBC News.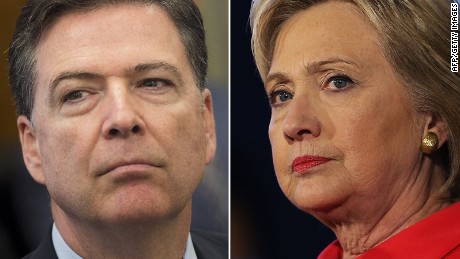 Deputy FBI Director Andy McCabe will take over temporarily as acting director, Attorney General Jeff Sessions told FBI employees in a message obtained by NBC News.
White House Press Secretary Sean Spicer said in a statement that Trump acted "on the clear recommendations" of Sessions and Deputy Attorney General Rod Rosenstein. He said a search for a new FBI director would begin "immediately."
The FBI has been investigating allegations that people involved with Trump's presidential campaign had undisclosed ties to Russia. But during a brief meeting with NBC News in the Oval Office on Tuesday evening, Trump said the Russia probe wasn't a factor in his decision.
The distinction is crucial, because Sessions signed off on Comey's dismissal even though he has recused himself from involvement in the investigation of Russia's ties to the presidential campaign.
Trump said that while he'd had concerns about Comey for some time, it was the FBI's "clarification" of Comey's inaccurate Senate testimony last week about Clinton's email practices that raised new questions about the director's competence and judgment.
In his letter to Comey, the president wrote: "While I greatly appreciate your informing me, on three occasions, that I am not under investigation, I nevertheless concur with the judgment of the Department of Justice that you are not able to effectively lead the Bureau."
www.nbcnews.com/news/us-news/trump-fires-fbi-director-james-comey-n757101
(Go Up)
Viewing this topic:
1 guest viewing this topic
TodayNewsReview is owned and managed by Jeremiah O. A.(TodayNewsReview) (Read TNR Rules) - Advertise With Us
- Copyright © 2019. All rights reserved.
Disclaimer: Every TodayNewsReview member is solely responsible for anything that he/she posts or uploads on .
For enquiries & feedbacks send email to: contact@todaynewsreview.com