How Arsenal Can Finish In The Top Four And Qualify For Champions League.
by
TodayNewsReview
(
m
):
10:07pm on May 8
Remaining Fixtures:
Arsenal - Southampton (A), Stoke (A). Sunderland (H), Everton (H)
Manchester City - Leicester (H), West Brom (H), Watford (A)
Liverpool - West Ham (A), Middlesbrough (H)
Manchester United - Tottenham (A), Southampton (A), Crystal Palace (H)
How they stand:
Arsenal are six points adrift of the top four, but have the bonus of having two games in hand over Liverpool, and one on both the Manchester side.
Liverpool have the points on the board, which is always a bonus, but they will have to make sure they don't drop any more games this season.
The Reds' 70 points have placed them in third, with a point advantage on Manchester City.
Manchester United are the other side challenging for the top four.
Jose Mourinho's men have the fall-back of winning the Europa League to qualify for the Champions League - they have 65 points.
Chelsea and Tottenham have both runaway and confirmed their places in the Champions League - with the Blues needing two-wins to confirm the title.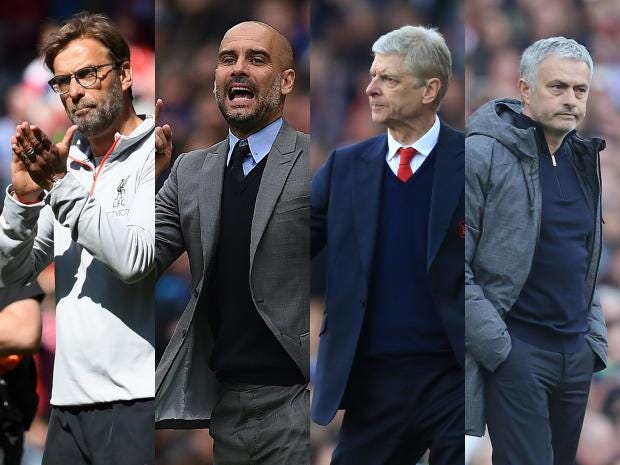 What Arsenal need to do
If they win every game they will finish up on 75 points.
That will not be enough if Liverpool and Manchester City both win their remaining matches - as they would end up on 76 and 78 points respectively.
Therefore, The Gunners need some help from some of their Premier League rivals if they are to qualify for the Champions League.
Wenger's side still have to face Southampton and Stoke on the road before returning to the Emirates to take on Sunderland and Everton.
None of the quartet have anything to play for so it is realistic for the Gunners to have a 100 per cent win ratio from their last four games.
But the favours are likely going to be needed from West Ham and Middlesbrough - who are Liverpool's remaining fixtures - and Leicester, West Brom and Watford - which are City's.
The Reds would probably need to lose a game for the Gunners to reach the top four, with their goal difference five goals better.
City maybe the more likely to overtake as they have an extra match but with their goal difference Wenger will be hoping for two defeats - which is unlikely to happen with their weak opposition.
They shouldn't have to worry about United though, as they would finish a point behind if everyone wins all their games.
www.mirror.co.uk/sport/football/news/results-arsenal-need-champions-league--10383155
(Go Up)
Viewing this topic:
1 guest viewing this topic
TodayNewsReview is owned and managed by Jeremiah O. A.(TodayNewsReview) (Read TNR Rules) - Advertise With Us
- Copyright © 2018. All rights reserved.
Disclaimer: Every TodayNewsReview member is solely responsible for anything that he/she posts or uploads on .
For enquiries & feedbacks send email to: contact@todaynewsreview.com