United States Deploys Warships To Korean Peninsula Amid Growing Concerns About North Korea's Missile Programme.
by
TodayNewsReview
(
m
):
11:15pm on April 11
The US military has ordered a navy strike group to move towards the Korean peninsula, amid growing concerns about North Korea's missile programme. The strike group comprises the Nimitz-class aircraft carrier USS Carl Vinson, two guided-missile destroyers and a guided-missile cruiser. As well as massive striking power, the carrier group - headed by Admiral Nora Tyson - has the capability to intercept ballistic missiles.
US Pacific Command described the deployment - now heading towards the western Pacific - as a prudent measure to maintain readiness in the region. President Trump has said the US is prepared to act alone to deal with the nuclear threat from North Korea.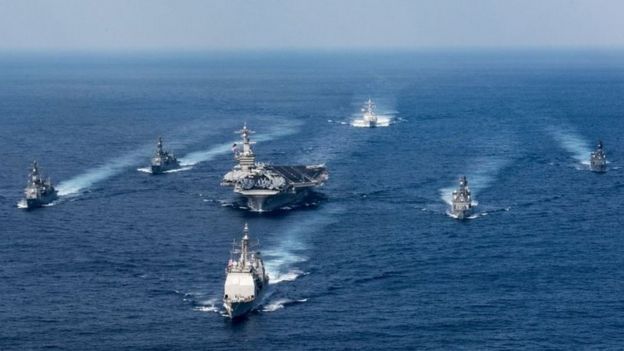 North Korea has carried out several nuclear tests and experts predict more could be in the offing as it moves closer towards developing a nuclear warhead that could reach the US. There have been indications from North Korea that it may test an intercontinental missile, even though it is banned from any tests under UN resolutions (restrictions it has consistently ignored).
On Wednesday, it test-fired a medium-range ballistic missile from its eastern port of Sinpo into the Sea of Japan. That test came a month after four ballistic missiles were fired towards the Sea of Japan, moves that provoked a furious reaction by Japan. On its part, North Korea says it is provoked by military exercises between the US and South Korea, which it sees as preparation for an invasion.
www.bbc.com/news/world-asia-39542990?ocid=socialflow_facebook&ns_mchannel=social&ns_campaign=bbcnews&ns_source=facebook
(Go Up)
Viewing this topic:
1 guest viewing this topic
TodayNewsReview is owned and managed by Jeremiah O. A.(TodayNewsReview) (Read TNR Rules) - Advertise With Us
- Copyright © 2019. All rights reserved.
Disclaimer: Every TodayNewsReview member is solely responsible for anything that he/she posts or uploads on .
For enquiries & feedbacks send email to: contact@todaynewsreview.com