Tragedy: Bodies Of Migrants Wash Ashore En-route Europe (Photos).
by
TodayNewsReview
(
m
):
11:32pm on February 21
The bodies of at least 74 migrants have been washed ashore in western Libya, in the latest tragedy along the dangerous trafficking route to Europe. The Libyan Red Crescent posted photos of dozens of bodies in black and white bags lined up along the shore near the western city of Zawiya.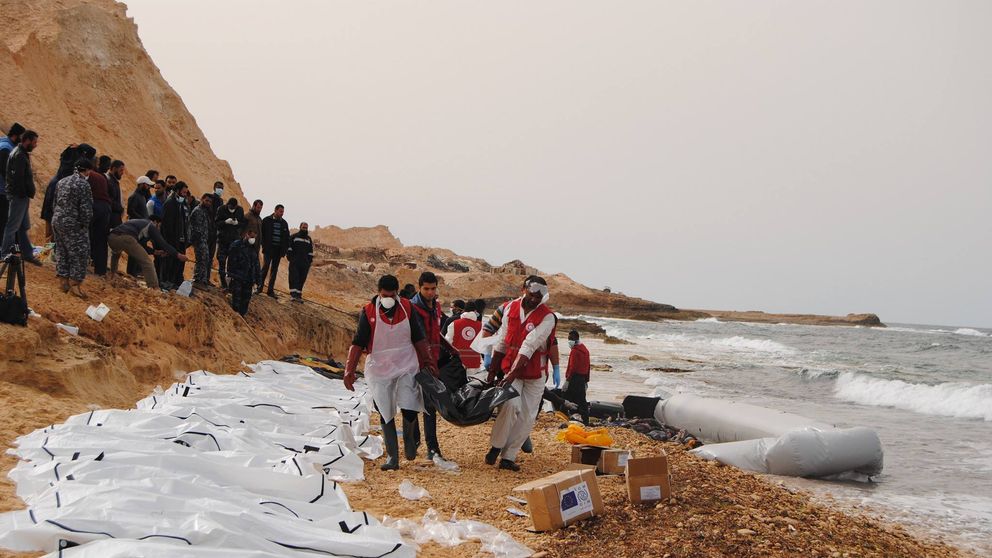 A spokesman for the aid organisation said there were still bodies floating out at sea as the agency had no way of retrieving them. He said the migrants were all adults, mostly from sub-Saharan African countries, and all but three were men.
A torn rubber dinghy that normally carries 120 people was found nearby.
The UN migration agency, the International Organisation of Migration (IOM), said the dinghy had set off on Saturday with 110 people on board. The agency said traffickers deliberately took the engines from the boat and then abandoned it to drift.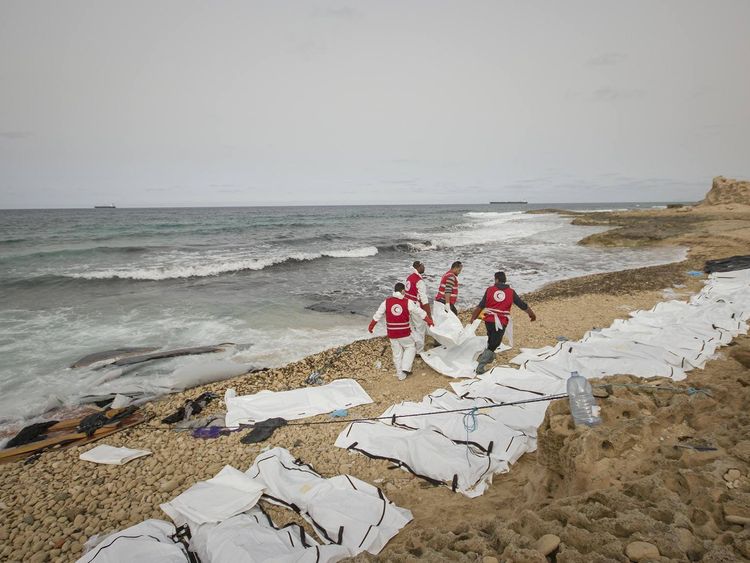 A spokesman for the IOM, Joel Millman, said "This is not a only horrible number of deaths in one incident but it strikes us as something that we haven't really seen much of, which is either deliberate punishment or murder of migrants."
A Libyan coastguard spokesman said more than 500 migrants were rescued at sea on Friday and Saturday within a few miles of the shore. He said the traffickers regularly pack 180 people into each boat, significantly increasing the chance it will capsize. "We are seeing the new boats, which are not equipped with anything, but they carry more people," he said. "This is going to be even more disastrous for the migrants."
Libya has emerged as a popular but highly dangerous route to Europe for migrants fleeing poverty and civil war in Africa.
The Italian coastguard said they rescued 630 migrants from the central Mediterranean on Monday night in two separate incidents.
The Libya to Italy smuggling route saw record numbers of drownings last year. In total 4,579 migrant deaths were documented, although the true figure is thought to be much higher.
The IOM says the latest tragedy takes the total number of people who have died attempting the crossing this year to 365.
news.sky.com/story/bodies-of-dozens-of-abandoned-migrants-washed-ashore-in-libya-10776658
(Go Up)
Viewing this topic:
1 guest viewing this topic
TodayNewsReview is owned and managed by Jeremiah O. A.(TodayNewsReview) (Read TNR Rules) - Advertise With Us
- Copyright © 2018. All rights reserved.
Disclaimer: Every TodayNewsReview member is solely responsible for anything that he/she posts or uploads on .
For enquiries & feedbacks send email to: contact@todaynewsreview.com