Tens Of Thousands Of US Visas Revoked In Wake Of President Donald Trump's Recent Travel Ban.
by
TodayNewsReview
(
m
):
12:15am on February 4
Tens of thousands of visas have been revoked in the wake of Donald Trump's recent travel ban.
A US Justice Department lawyer, speaking during a court hearing, said 100,000 visas have been cancelled, the Washington Post reported.
But the US State department later contradicted that figure, suggesting the real number was less than 60,000.
The State Department said the higher figure included diplomatic and other visas exempted by the travel ban, as well as expired visas.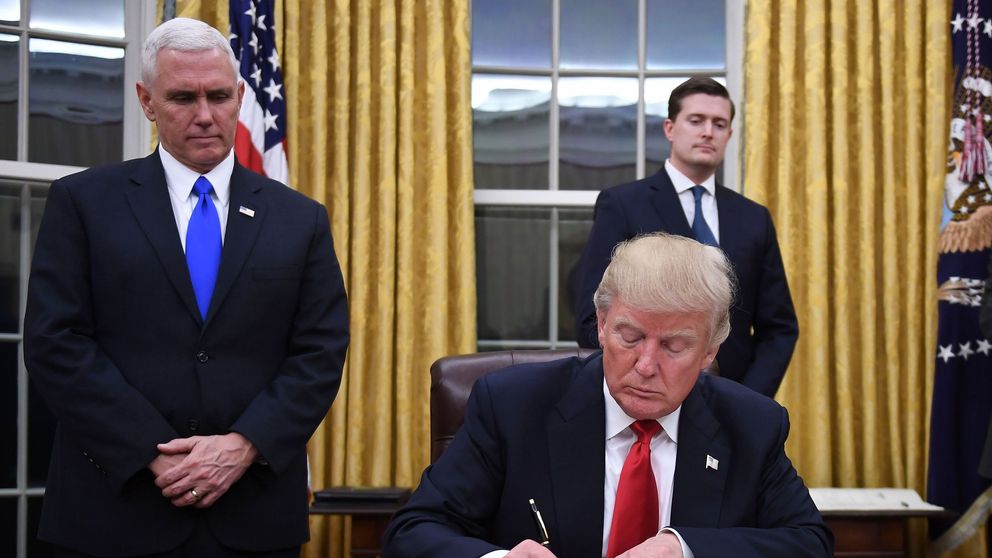 The larger figure emerged in a lawsuit for two Yemenis who arrived at Dulles International Airport, near Washington DC, last Saturday.
According to the Washington Post, the brothers said they were coerced into giving up their resident visas, and put on a flight to Ethiopia.
:: Angelina Jolie attacks Trump's US travel ban
Lawyer Simon Sandoval-Moshenberg, representing Tareq and Ammar Aziz, said: "The number 100,000 sucked the air out of my lungs."
Last Friday, Mr Trump signed an executive order banning citizens of seven mainly Muslim countries from entering the US.
The order affects people holding passports from Iran, Iraq, Libya, Somalia, Sudan, Syria and Yemen.
It also halts temporarily the entry of refugees into the country.
The President says the move is necessary for national security, but the measures have been called unconstitutional by Democrats.
Asked about the visas being revoked, White House press secretary Sean Spicer said: "I'll have to get back to you on that."
He added: "I don't have all the details right now."
It is believed that up to 200 people have been detained at US airports or in transit because of the order.
In a separate case, a federal judge in Detroit ruled that US green card holders should not be affected by the travel ban.
That decision follows a lawsuit by the Arab-American Civil Rights League.
The organisation argued that the order is unconstitutional and targets immigrant communities.
news.sky.com/story/tens-of-thousands-of-us-visas-revoked-in-wake-of-trump-travel-ban-10755110?dcmp=snt-sf-twitter
(Go Up)
Viewing this topic:
1 guest viewing this topic
TodayNewsReview is owned and managed by Jeremiah O. A.(TodayNewsReview) (Read TNR Rules) - Advertise With Us
- Copyright © 2018. All rights reserved.
Disclaimer: Every TodayNewsReview member is solely responsible for anything that he/she posts or uploads on .
For enquiries & feedbacks send email to: contact@todaynewsreview.com