Bigg Boss 10 14th November 2016 Episode 30 Updates: Rahul Dev, Karan Mehra, Lokesh Kumari And Mona Lisa Nominated This Week.
by
TodayNewsReview
(
m
):
9:52pm on November 14
Sparks flew and they flew very high during the Weekend Ka Vaar episode of Bigg Boss 10. Host Salman Khan was visibly not in one of his best moods, as he reprimanded celebrity contestants Rahul Dev, Karan Mehra and Rohan Mehra for putting up a poor show throughout the week and failing to entertain the audience. Former contestants Tanishaa Mukerji and VJ Andy made a comeback and gave their expert opinions to the current housemates. And lastly, Navin Prakash, who entered the Bigg Boss house representing the commoners was eliminated from the high voltage reality show.
It's start of yet another week inside the Bigg Boss house and we are going to witness huge loads of drama. But if you are not able to watch tonight's telecast of the high voltage reality show, then fret not! We have got the Live updates right here on BollywoodLife. Take a look:
After braving Salman's criticism for being low on enthusiasm, contestants woke up all pumped up dancing to Tunak Tunak Tun. Clouded by insecurities, Om Swami tried to make amends with the fellow housemates after his secret room conversations were exposed by Salman. While Manu Punjabi and Mona Lisa chose not to speak with him and maintain a distance, he tried to manipulate Lopamudra Raut and Manveer Gurjar to save him from nominations. He further added that he was just playing a game and had no intentions of hurting anyone.
With the nomination being the highlight of the day, Bigg Boss asked the contestants to unanimously nominate four contestants for the week. Bani J being the captain was not allowed to be a part of this process. Nitibha Kaul used her Immunity Medallion this week too, while Om Swami, who made a comeback to the house after being in the secret room last week was also announced safe this week. After many debates and arguments, the contestants reached a consensus and announce the name of the nominated contestants. Playing his cards smartly, Swamiji first refuses to nominate anyone but eventually nominates a contestant. His decision sparked a fight between Manu and him after he declared that he was trying to save his 'premika' Mona Lisa during nominations. Infuriated by Swami's comments, Manu firmly warned him to watch his words while Mona ended up abusing him.
Finally, after a hell lot of discussions, Karan, Rahul, Lokesh Kumari and Mona Lisa were nominated for evictions this week.
As the day progressed, the housemates took up the household chores, but some of them were not happy with the division of work. While Bani tried her best to sort out the responsibilities, she got into a series of arguments with the housemates over it. From debating over who will wash the utensils to not doing the cleaning properly, contestants gave Bani a hard time throughout the day. In order to be fair, she asked the cleaning team to divide areas among themselves and complete the task. Lokesh added up to Bani's problems by not preparing her breakfast. Guilty about her actions, Lokesh apologized Bani over and over again which gave Manu and Manveer a valid reason to prove that she is heavily influenced by her. Taking a break from her responsibilities, Bani turned to Gaurav for advice in order to align her game plan. They discussed that their biggest challenge at this point is to create differences between Manu and Manveer. Agreeing to the fact that they are both strong contenders, Gaurav and Bani discussed the reason why they are not getting eliminated. Just when Bani got back into the captain's role, Lopa reminded her that she is her sevika for the next 24 hours and demanded for a back massage from her.
All in all tonight's episode of Bigg Boss 10 was high on entertainment and we give it a Garma Garam on our Masala Meter.
www.bollywoodlife.com/news-gossip/bigg-boss-10-14th-november-2016-episode-30-live-updates-om-swami-manipulates-lopamudra-raut-and-manveer-gurjar-to-save-him-from-nominations/
Re: Bigg Boss 10 14th November 2016 Episode 30 Updates: Rahul Dev, Karan Mehra, Lokesh Kumari And Mona Lisa Nominated This Week.
by
TodayNewsReview
(
m
):
9:59pm on November 14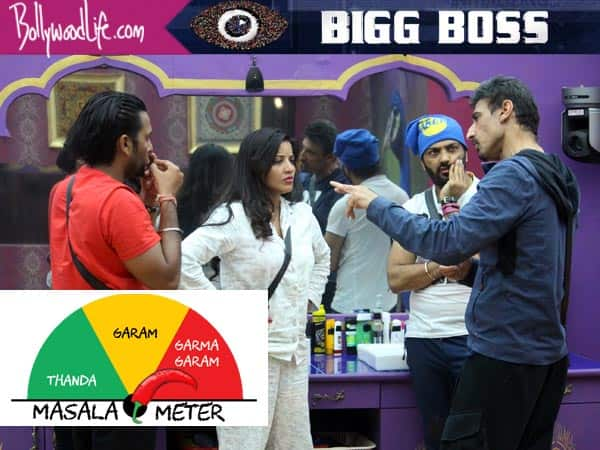 (Go Up)
Viewing this topic:
1 guest viewing this topic
TodayNewsReview is owned and managed by Jeremiah O. A.(TodayNewsReview) (Read TNR Rules) - Advertise With Us
- Copyright © 2018. All rights reserved.
Disclaimer: Every TodayNewsReview member is solely responsible for anything that he/she posts or uploads on .
For enquiries & feedbacks send email to: contact@todaynewsreview.com