Democrat Bill De Blasio Wins Re-election As New York City Mayor - AP.
by
TodayNewsReview
(
m
):
4:12am on November 8
Mayor Bill de Blasio cruised to re-election on Tuesday, fending off token opposition to win a second term as the leader of the nation's largest city.
De Blasio, a Democrat, easily defeated Republican state lawmaker Nicole Malliotakis and several third-party candidates. The Associated Press called the election for de Blasio shortly after polls closed in the city, which leans heavily Democratic.
On the campaign trail, de Blasio touted his rollout of universal pre-kindergarten for 4-year-olds and efforts to increase affordable housing. He also cited low crime rates and his work to address his city's notoriously high cost of living.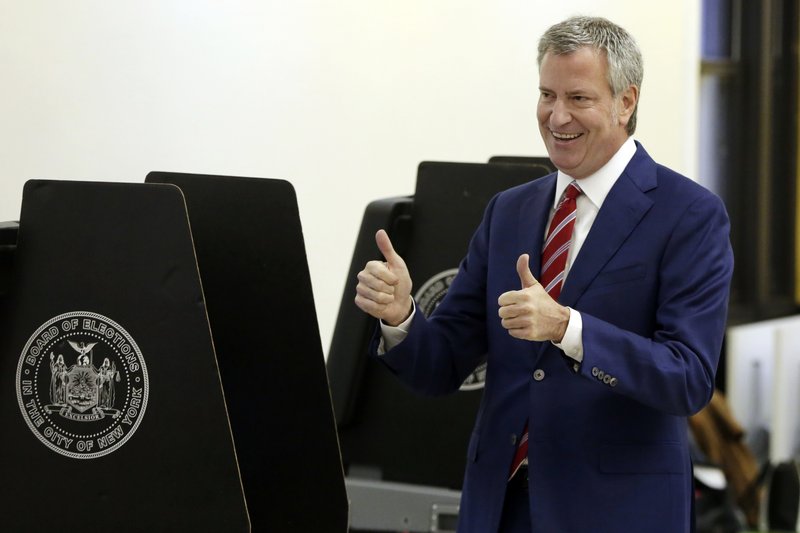 First elected four years ago, de Blasio emerged as a national leader in progressive politics. But his administration often found itself bogged down in feuds with Gov. Andrew Cuomo, a fellow Democrat, and investigations into campaign donations and pay-to-play politics.
De Blasio's toughest challenger on Tuesday, Malliotakis, called the mayor ineffective. Third-party candidates in the race included independent Bo Dietl, a former detective.
The 56-year-old mayor has vowed that in his second term he will further expand pre-kindergarten to 3-year-olds and increase investments in affordable housing. He also has promised to continue to speak out for the city's immigrant and minority communities and be a vocal critic of President Donald Trump.
The city leans heavily to the left, with Democrats outnumbering Republicans by a 6-1 ratio.
apnews.com/059131e9052042ed828d19e528bfdcde/Democratic-New-York-Mayor-Bill-de-Blasio-wins-2nd-term?utm_campaign=SocialFlow&utm_source=Twitter&utm_medium=AP
(Go Up)
Viewing this topic:
1 guest viewing this topic
TodayNewsReview is owned and managed by
Jeremiah O. A.(TodayNewsReview)
(
Read TNR Rules
) -
Advertise With Us
- Copyright © 2018. All rights reserved.
Disclaimer:
Every TodayNewsReview member is solely responsible for anything that he/she posts or uploads on TodayNewsReview .
For enquiries & feedbacks send email to:
contact@todaynewsreview.com