Anthem Protests: 'Ashamed To Be A Patriot' - Matt Light.
by
TodayNewsReview
(
m
):
2:09pm on September 25
Former Patriot, Matt Light who spent 11 years in a Patriots uniform has said that he was "ashamed" to see Patriots players on a knee during the anthem.
According to Matt;
"If you think that it's OK to take a knee during our national anthem and disrespect openly the national anthem, you are wrong. As a guy that's been there and helped set up the Patriot Way so they can walk in there and do what they do, it's beyond disheartening. It's the first time I've ever been ashamed to be a Patriot. And I promise you I'm not the only one."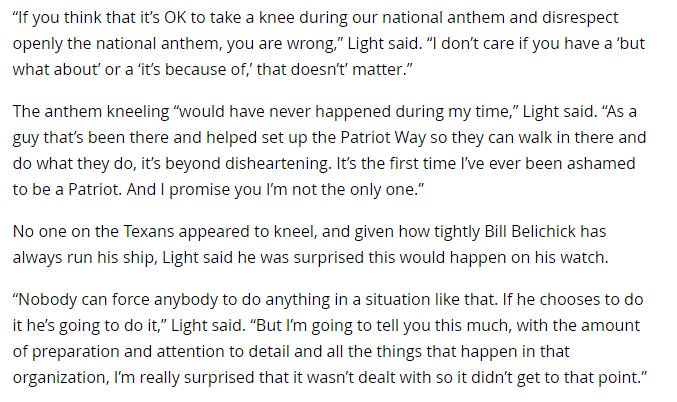 That's the reality that these so-called men don't understand. Is it about their cause or is it about them? If it was about their cause, I could come up with a million different ways for them to really truly change things. If it's about them, well … you see what happens. The collateral damage is widespread,"
"If that is not the Patriot Way anymore, then I am very disheartened and very upset. I'm also not saying that I'll never be a Patriots fan. What I'm saying is I'm very ashamed."
www.bostonherald.com/sports/patriots/2017/09/matt_light_ashamed_as_team_takes_part_in_protest
(Go Up)
Viewing this topic:
2 guests viewing this topic
TodayNewsReview is owned and managed by
Jeremiah O. A.(TodayNewsReview)
(
Read TNR Rules
) -
Advertise With Us
- Copyright © 2018. All rights reserved.
Disclaimer:
Every TodayNewsReview member is solely responsible for anything that he/she posts or uploads on TodayNewsReview .
For enquiries & feedbacks send email to:
contact@todaynewsreview.com