Kevin Durant May Have Got Caught Using A Fake Twitter Account To Defend Himself.
by
TodayNewsReview
(
m
):
9:38pm on September 18
Golden State Warriors superstar and the reigning NBA Finals MVP, Kevin Durant may have been caught using a fake Twitter account to defend himself.
In a response to a tweet on Sunday night:
@KDTrey5
man I respect the hell outta you but give me one legitimate reason for leaving okc other than getting a championship
— h (@ColeCashwell) September 18, 2017
Durant decided to answered in the third person which suggested he may have been using another account in defending unknown to him, the response came from his own verified account.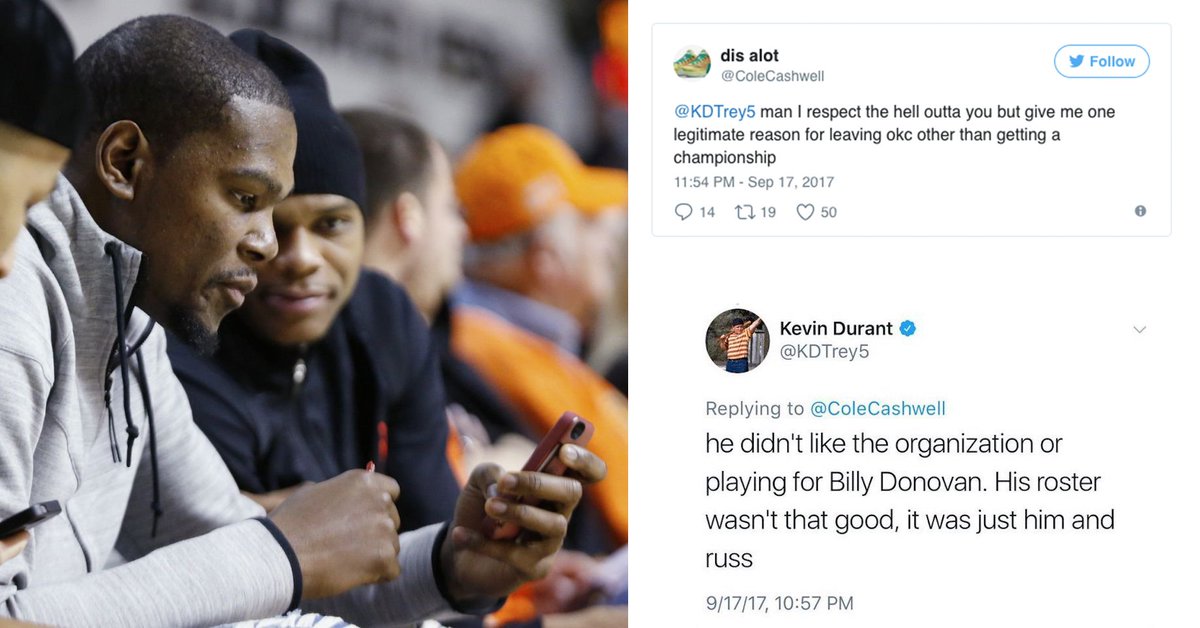 The content of the tweet has since been deleted but was save by Twitter users
@Ochocuatro
and
@harrisonmc15
.
(Go Up)
Viewing this topic:
1 guest viewing this topic
TodayNewsReview is owned and managed by
Jeremiah O. A.(TodayNewsReview)
(
Read TNR Rules
) -
Advertise With Us
- Copyright © 2018. All rights reserved.
Disclaimer:
Every TodayNewsReview member is solely responsible for anything that he/she posts or uploads on TodayNewsReview .
For enquiries & feedbacks send email to:
contact@todaynewsreview.com