These Are The NFL Emoji Hashtags For The Season; Notable Changes By Teams.
by
TodayNewsReview
(
m
):
4:00am on September 7
Fews hours to the 207 Season kickoff, the 32 NFL Teams have released their various unique emoji hashtags to rep their favorite teams on Twitter.
Club emoji hashtags were used over 17 million times during the 2016 season. You'll notice that several teams have updated their hashtags for the new season.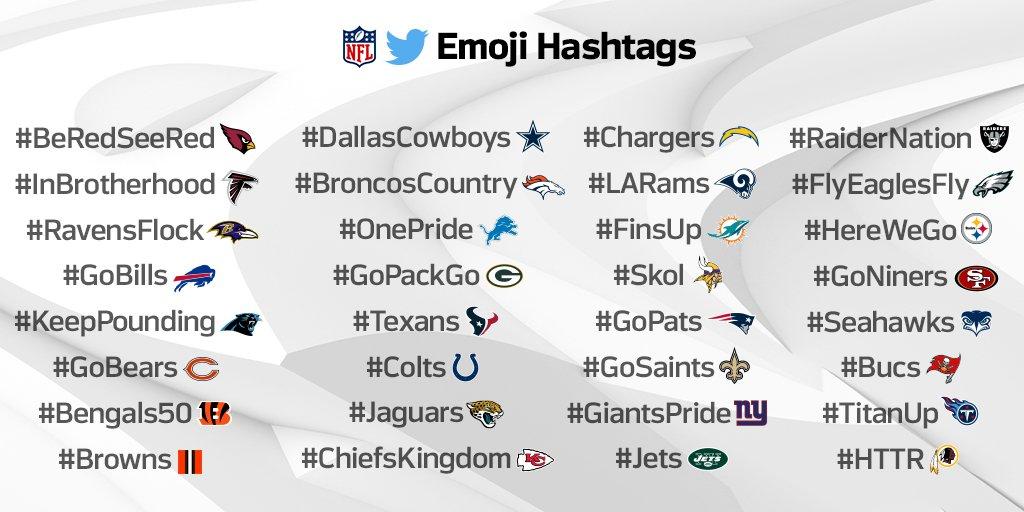 A few of the notable changes include:
Atlanta Falcons: "#RiseUp" --> "#InBrotherhood"
Chicago Bears: "#FeedDaBears" --> "#GoBears"
Cincinnati Bengals: "#WhoDey" --> "#Bengals50" (representative of 2017 being their 50th season)
Seattle Seahawks: "#WeAre12" --> "#Seahawks"
Kansas City Chiefs: "#Chiefs" --> "#ChiefsKingdom"
www.nfl.com/news/story/0ap3000000839771/article/nfl-emoji-hashtags-are-back-to-get-you-hyped?campaign=tw-nf-sf112100407-sf112100407&sf112100407=1
(Go Up)
Viewing this topic:
1 guest viewing this topic
TodayNewsReview is owned and managed by
Jeremiah O. A.(TodayNewsReview)
(
Read TNR Rules
) -
Advertise With Us
- Copyright © 2018. All rights reserved.
Disclaimer:
Every TodayNewsReview member is solely responsible for anything that he/she posts or uploads on TodayNewsReview .
For enquiries & feedbacks send email to:
contact@todaynewsreview.com