Chicago Cubs Acquires Justin Wilson And Alex Avila From The Tigers.
by
TodayNewsReview
(
m
):
5:04pm on July 31
The Cubs has acquired lefty reliever Justin Wilson and catcher Alex Avila from the Tigers in exchange for third baseman Jeimer Candelario and minor-league shortstop/third baseman Isaac Paredes, the teams announced on Monday.
Wilson, 29, is in the midst of a great season for the Tigers. He took over as closer and has saved 13 games in 15 tries with a 2.68 ERA, 0.94 WHIP and 55 strikeouts against 16 walks in 40 1/3 innings.
Where Wilson fits in the Cubs' bullpen is a fun topic. Wade Davis remains the closer, but Maddon has a bevy of guys he employs in late-inning, high-leverage situations, including Carl Edwards Jr., Pedro Strop, Koji Uehara, Hector Rondon and lefty Brian Duensing. Mike Montgomery is a lefty like Duensing and Wilson, but he remains the long guy. Justin Grimm may be in trouble of being designated for assignment here, as he's the likely guy squeezed out the presence of Wilson.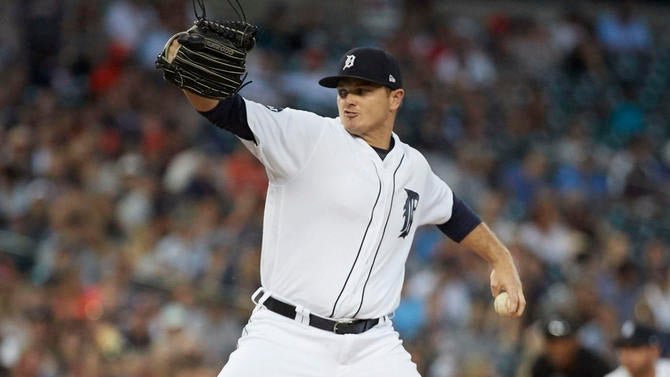 The look of the Cubs' bullpen was already strong. The stable currently boasts a 3.34 bullpen ERA, which is good for fourth (tied with the Yankees, actually) in the majors, trailing only the Indians, Dodgers and Red Sox. Now it's better.
In looking ahead at the upside, a back-end trio of Davis, Wilson and Edwards with Uehara as the change-of-pace guy, Duensing as a guy only needed to get out lefties, Montgomery as the long man and Strop and Rondon still available is top notch.
www.cbssports.com/mlb/news/mlb-trade-deadline-cubs-reportedly-land-justin-wilson-and-alex-avila-from-tigers/
(Go Up)
Viewing this topic:
1 guest viewing this topic
TodayNewsReview is owned and managed by
Jeremiah O. A.(TodayNewsReview)
(
Read TNR Rules
) -
Advertise With Us
- Copyright © 2018. All rights reserved.
Disclaimer:
Every TodayNewsReview member is solely responsible for anything that he/she posts or uploads on TodayNewsReview .
For enquiries & feedbacks send email to:
contact@todaynewsreview.com