Everything We Need To Know About 'Westworld' Season 2.
by
TodayNewsReview
(
m
):
7:45pm on December 5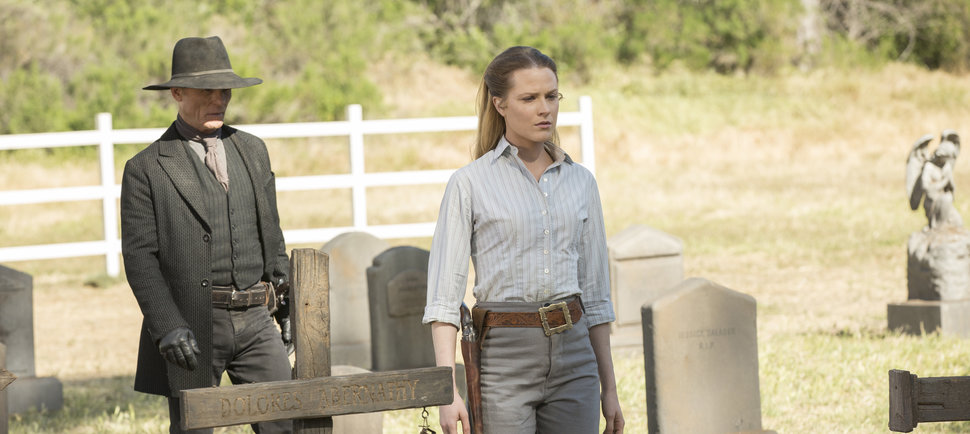 With Westworld's dizzying first chapter finally over, it's time to get ready for Season 2. Just don't be impatient, as it won't be here for a while -- possibly not until 2018. But that doesn't mean the cast and crew haven't already started talking about it. Below, we've compiled the most revealing nuggets from interviews with the actors and creators to give you an idea of what to expect when HBO's best show about robots returns... someday.

Season 1 was like a prequel for the rest of the series
"I think the first season is an amazing prequel and a good setup for the actual show. It's a unique show because you really could make every season different, and there are limitless possibilities. Characters can never die, and they can be a million different people. I really want to see where they're going to take everything -- and if it's going to be like the film, where there's many different worlds, and what those would be. So I certainly hope it comes back... I've had a glimpse of what Season 2 would be if we get picked up. I'm champing at the bit to do it." -- Evan Rachel Wood (to Thrillist)
Season 2 will be "defined by chaos"
"The end of the season finds us with the stakes taken all the way up. If the first season is defined by control, the second season is defined by chaos. I think that's part of what we come to understand Ford has been planning all along. Ford has set in motion what he thinks is a plan. The nature of that plan is something we explore in the second season: what his intentions are. Are they to let Dolores and the other hosts escape? Are they simply to teach the human guests a lesson?" -- co-creator Jonathan Nolan (in an HBO clip following the season finale)

It will concern "the dawn of consciousness"
"What happens at the dawn of consciousness? What happens when you begin to actually wake up?" -- J.J. Abrams, executive producer (HBO)
The differences between humans and hosts will be explored
"[The hosts'] construction and their power source is something we're really going to get into during Season 2... They're closer to biological than they are to mechanical, but they don't suffer brain death the same way we do. They're largely indistinguishable from a human beings, but their brains don't require oxygen -- which opens up interesting possibilities. Their brains are not as fragile as ours. On one hand, their cognition is controllable and malleable, but on a structural level they can't be killed in the same way you and I can. There are advantages and disadvantages to being a host. Season 2 we'll be exploring more the nuts and bolts of what they are -- as the hosts themselves are trying to understand." -- Nolan (to Entertainment Weekly)
It'll be "meticulously plotted"
"My hope for Season 2 is that whatever evolution is happening, whatever movement in whatever direction is taking place, that continues to accelerate and crescendo. That's it, and I mean that by the feel of the show. I mean that by what we see happening with Thandie and Evan. We'll see. Jonah and Lisa are very good about mapping things out. Nothing is by mistake or accident. It's all very meticulously plotted. There's part of me, the fan of the show, who doesn't want to know. But I can only imagine, having read all 10 episodes (of Season 1), where this will go and it's very exciting." -- James Marsden (to Rotten Tomatoes)
HBO is into it
"The network seems very excited with the direction of the show and very excited with where we want to take it." -- Nolan (to Variety)

Season 2 will be 10 episodes; Ed Harris will "be involved"
"I was just talking to Jonah Nolan last night, who's the creator of this thing with his wife, Lisa Joy, and yeah, they're doing another season; they're going to do 10 more episodes, and I will be involved." -- Ed Harris (on the BBC)
Evan Rachel Wood will return as Dolores
"No one's more excited than me to come back -- I guarantee it! That's the only clue I'm going to give you... I know how our ending for Season 1 will segue into Season 2 and... wow [laughs]. That's all I can say. I think it was always that Season 1 was going to be this back story and set-up -- getting to know the park and characters. I think Season 2 is really going to be warp speed. The show might really start in Season 2." -- Evan Rachel Wood (to IndieWire)
Jeffrey Wright is in it "for the long haul"
"We could go anywhere with this, it's really just limited by the imagination of Jonah Nolan, Lisa Joy, and J.J. Abrams. And I can tell you there's some wide spaces in those imaginations. So yeah, we're in this for the long haul." -- Jeffrey Wright (to Rotten Tomatoes)
Jimmi Simpson is likely done with Westworld
[In response to a question about returning for a second season]: "No. ... I feel the same way, like gosh darn. My William has served his purpose. As of now, I'll be done at the end of Season 1." -- Jimmi Simpson (to Vanity Fair)

Harris suspects Season 2 will be very violent
"Probably won't start shooting until June or July. They sound pretty excited about what it's about. But I have no idea what it will encompass... It sure seems like there's going to be an awful lot of violence. I think all hell's going to break loose. I don't know if I join forces with the hosts, or what... [Jonah and Lisa] have very specific plans for Season 2. I think they're gonna spend more time in Utah next season -- they were there for two weeks last season, next season will be a month." -- Harris (to EW)
Samurai World is probably on the table
[Asked prior to the finale about whether theme parks from the Westworld movies would come into play]: "You said Roman World and Medieval World, right? No." -- Nolan (via Mashable)
The premiere date is unclear... but it'll be a while
"My suspicion is [the second season won't be ready until] sometime in 2018 because of how big the world is and what goes into shooting it. So I don't have a date exactly -- they're going to have to map it out and write the scripts -- but my guess is sometime in '18... I didn't know exactly what to expect in Season 2. And what they came up with is as exciting, mysterious and as fun as Season 1. And completely original, as well." -- Casey Bloys, HBO programming president (to EW)
www.thrillist.com/entertainment/nation/westworld-season-2-premiere-date-plot-cast-what-we-know-so-far
(Go Up)
Viewing this topic:
1 guest viewing this topic
TodayNewsReview is owned and managed by
Jeremiah O. A.(TodayNewsReview)
(
Read TNR Rules
) -
Advertise With Us
- Copyright © 2018. All rights reserved.
Disclaimer:
Every TodayNewsReview member is solely responsible for anything that he/she posts or uploads on TodayNewsReview .
For enquiries & feedbacks send email to:
contact@todaynewsreview.com